BOUT++ workshop 2016
Date: 19th-21st September 2016
Location: York Plasma Institute, University of York, UK YO10 5DQ
The BOUT++ code is a flexible tool for the simulation of plasma fluid equations, primarily focussed on tokamak edge simulations. This workshop will combine hands-on training in using BOUT++ with lectures on tokamak edge physics, numerical simulation techniques, and related topics. All those with an interest in using BOUT++ or in tokamak edge simulation, are invited to attend. There is no fee.
The aim of this workshop is (1) to prepare researchers to use and further develop the BOUT++ code for edge turbulence, transport, and ELM simulations of magnetic fusion devices; and (2) to promote effective collaboration within the BOUT++ community and beyond.
Registration: Anyone interested in attending should contact Ben Dudson (benjamin.dudson@york.ac.uk) by August 31st.
Getting to the York Plasma Institute
Agenda
Monday 19th September
Session 1: Applications
12:30 : Arrival and lunch
1.00 : Introduction and overview (Ben Dudson, York)
1:30 : Edge and divertor studies at CCFE (Fulvio Militello, CCFE)
2:00 : Recent work at DTU (Jens Madsen, DTU)
2:30 : Edge turbulence measurements (Istvan Cziegler, York)
3:00 : Coffee
Session 2: First steps
3:30: Getting and compiling BOUT++, running testcases (Peter Hill, York)
4:00: Code layout  (Ben Dudson, York)
4:30: Hands on demonstrations
5:00: Pre- and Post-processing in Python
5:30: Finish
Tuesday 20th September
Session 3: Physics models
9:00: Neutrals + turbulence, Hermes (Jarrod Leddy, York)
9:30: STORM (Fulvio Militello, CCFE)
10:00: Non-local transport (Jonathan Broderick, York PhD)
10:30: Coffee
11:00: Linear analysis of collisionless ballooning mode instability based on reduced MHD model (Haruki Seto, QST, Japan)
11:30: Transport model/TORPEX (Brendan Shanahan, York PhD)
12:00: Discussion of physics models
12:30: Lunch + posters
Session 4: New features
1:30: Synthetic diagnostics (Nick Walkden)
2:00: Multigrid method and solvers (Dr Kang, IPP HLST)
2:30: Non-axisymmetric "straight stellarators" with FCI (Peter Hill)
3:00: Discussion
3:30: Coffee
Session 5: Other codes
4:00: Jorek (Stanislas Pamela, CCFE)
4:30: GRILLIX (Andreas Stegmeir, IPP, Germany)
5:00: Discussion
5:30: Finish + Dinner
Wednesday 21st September
Session 6: Future development
9:00: New version of BOUT++  (Ben Dudson, Peter Hill)
9:30: OpenMP and parallel dataiterators (Joseph Parker, STFC)
10:00: Discussion and future of BOUT++ (Joseph Parker, STFC)
10:30: Coffee
11:30: Discussion and future of BOUT++ (Ben Dudson)
12:30 : Lunch and finish
Video conferencing
Slides will, when possible, be shared on EUROfusion TV channel 5. Note that many demonstrations may need to use local computers and so may not be shared. There is a password, please ask one of the organisers.
If using a H.323 video-conference device, registered to an E.164 compliant gatekeeper, call the E.164 number:
004910097920065
If using a H.323 video-conference device NOT registered to an E.164 compliant gatekeeper (called URI dial), the syntax depends on your vendor as shown below:
ConferenceID = 97920065
LifeSize: 194.95.240.2##ConferenceID Mirial: ConferenceID@mcu.vc.dfn.de Polycom: mcu.vc.dfn.de##ConferenceID Sony: 194.95.240.2#ConferenceID Tandberg: ConferenceID@mcu.vc.dfn.de Cisco: ConferenceID@vc.dfn.de VCON: n.a.
Further technical details and help can be found here http://vcc.zih.tu-dresden.de/index.php?linkid=11100 and here https://www.vc.dfn.de/en/video-conferencing/ways-of-access/h323.html
For ISDN VC systems and phones please use the DFNVC - ISDN/IP gateway as follows: Dial with any phone one of the two German telephone numbers:
+49-30-2541080 or +49-711-6330190
wait a second until you are asked to enter the conference ID
97920065 followed by an # (hash symbol).
Workshop dinner
The workshop dinner will be on Monday 19th September at 7:30 at the Walmgate Ale house. Please note that participants will have to pay for their own dinners.
The menu is their usual set menu: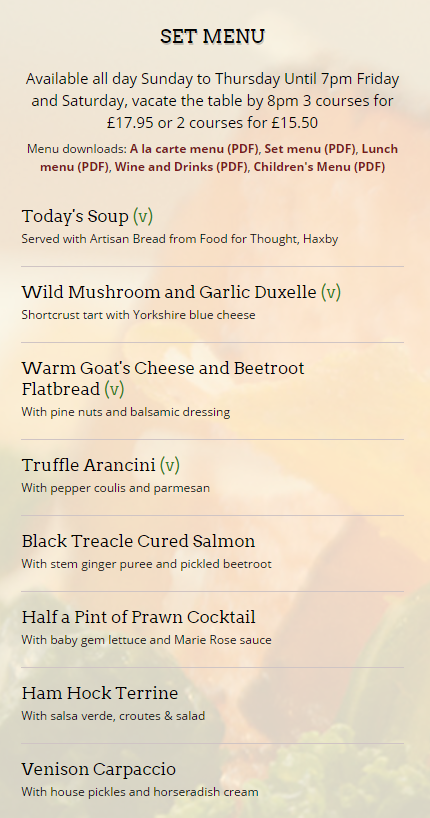 EUROfusion support
All participants funded by the MST1 work package can get support to pay local costs e.g., accommodation. Please send an email to Jens Madsen (jmad@fysik.dtu.dk) if you would like to apply for support.
Accommodation
The University of York has accommodation available, which can be booked through University Rooms. Franklin House is close to the workshop venue (B&B single room £52.80, double £90 per night), whilst James College is a short walk away (single ensuite £34.50). In addition there are many excellent hotels and B&Bs in York, including:
Moorgarth Guest House, around £30 per night. Convenient location within 15 minutes walk of town and around 30 minutes walk from the meeting venue. There is a bus stop on Kent street a short walk away which goes directly to Heslington close to the venue (see map).
Turnberry House, around £45 per night. In Fulford village, around 25 minutes walk from the meeting venue, and 30 minutes walk from town.
The Limes guest house for around £55 per night. Close to Turnberry house, this is also around 30 minutes walk from town and the meeting venue.
More information about hotels in the area can be found on York's tourist information website.
Links
Downloads:
Tools: